Posted by Mike M. on Jun 22nd 2016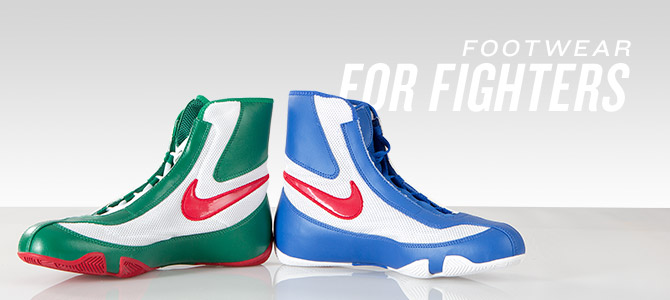 Still riding the wave of the running craze that hit the US in the early seventies, followed by a fitness boom later on in that same decade, the already well-established Nike brand was on the lookout for its next big move. It came in the way of product placement in what would become one of the most iconic movie franchises in film history.
Before they would ultimately go on to land a deal with Michael "Air" Jordan, Nike would play a role in the 1983 premiere of Rocky 3. Prior to the release of the third installment in the Rocky series, they weren't really in the boxing shoe business, but once the Italian Stallion was seen training in a pair of Nike boxing shoes, the Nike brand registered a quick knockout over boxing fans.
The distinctive black and gold leather shoes made an eye-catching statement and their film debut when Rocky Balboa and Apollo Creed teamed-up to run on the beach in a classic scene from the movie. They then re-appeared later when Rocky came up against the intimidating force, Clubber Lang. Like movie-magic, Nike and "The Rock" both came out victorious.
Since that time, Nike has continued to not only have a presence in boxing and combat sports, but has become a leader in the industry. They've accomplished this through brilliant marketing, but also some key alliances in the boxing industry.
Over the past three decades Nike has been seen on many of the sport's top athletes, and in more recent history, officially associated with one fighter…Manny Pacquiao. Since 2006, Pacquiao's mainstream appeal and celebrity status encouraged Nike to celebrate the Filipino fighter with his own MP apparel line, training footwear and everything from jackets to t-shirts bearing the fighter's name. Their endorsement of one of the top fighters of the past decade demonstrates their commitment to maintaining their championship status.
Aside from their presence and high-profile PR efforts, Nike has gained the respect of the boxing community by legitimately doing what they do best. They have applied many of the same principles they adhered to as innovators in the fitness industry to establish themselves as one of, if not THE, pound-for-pound king of boxing footwear. They've achieved this by zeroing in on the key characteristics required to build a better boxing shoe, combining the most critical benefits and features in every model they unveil, including:
LIGHTWEIGHT DESIGN Maximizes speed, agility and maneuverability with no unnecessary weight.
BREATHABLE MATERIALS Minimalize moisture absorption through the use of mesh and ample ventilation.
FLEXIBLE SUPPORT Provides enhanced technology and pliable soles, designed for optimal control and traction the ring.
Their attention and understanding of how to design a shoe to meet the demands of each specific sport, is what continues to set Nike apart.
Whether it's a big name athlete like Michael Jordan, Manny Pacquiao or a yet-unknown prizefighter plugging-away in his private training camp, Nike continues to be the brand of choice when it comes to boxing footwear. It's time to Walk the Walk. Get your pair Exclusively at PRO Fight Shop® today!
To check out the Nike Shoe Vault click here.